Hi, I'm Sarah. Buying or selling a home is a big decision and it can be stressful, which is why I'm here to help. I put my clients' needs first, and will guide my clients throughout every step of the home buying and selling process from start to finish. Whether you are a first buyer or seller, or have bought and sold before, I would love to meet with you and work together to help you reach your goals!
I absolutely love the Charlottesville area and I have lived at Lake Monticello (#From Fluvanna) since 2008. Prior to becoming a ReaItor, I worked in finance at the University of Virginia for 10 years. Go Hoos! I graduated from Christopher Newport University in Newport News Virginia with a major in Sociology and a minor in Communication Studies.
I currently serve as a Board Member for the Fluvanna Chamber of Commerce as well as on the board for the Louisa Fluvanna Housing Foundation. I'm a proud member of Fluvanna's Women in Business and graduated from the Fluvanna Leadership Development Program class of 17. I am also a proud member of NAR, CAAR, and VR.
I'm honored to be recognized by the CAAR (Charlottesville Area Association of Realtors) as a member of 2019 and 2020 Professional Honor Society Class. I completed my ABR (Accredited Buyer Representative) certification and At Home with Diversity Training.
In my spare time, I enjoy spending time outdoors and hanging out with family and friends. Let my expertise, positive attitude, and commitment help you turn the page to the next chapter of your life. Please feel free to reach out today for more information.
Follow me on Facebook at Sarah Monceaux, Realtor
A few of my favorite things
Sarah Monceaux is not only a very good real estate agent, but is a very nice individual who cares about her clients professionally and personally. Sarah was very attentive to our needs and what we wanted and did a great job helping us find a home. We recommend her highly.
"Sarah Monceaux with Avenue Realty has your back every step of the way while purchasing or selling a home. Sarah and I have been through three closings together. She is one of those people that you ask a question and she will have the answer or know the resources to contact to acquire the answer. She was extremely helpful while I was purchasing my last home taking phone calls and scheduling all the inspections my older home required. She always showed up on time and answered her phone whenever I had a favor to ask. Sarah has also lived in this community for many years so these streets and homes are very familiar to her. The absolute best part about working with Sarah is her smile and laugh. She is extremely supportive but always brings positivity and light to whomever she speaks with. This doesn't make Sarah less mighty. She knows the ins and outs of home purchasing and even was able to find a way to help with getting closing credits from the seller in a market that hasn't been buyer friendly in a few years. I highly recommend Sarah Monceaux for your next home purchase in Charlottesville, VA."
"Sarah was absolutely outstanding! I could rave about her forever. She was wonderful with communication, sharing insight and advice, and guiding us on this process. We are so grateful for her."
"Sarah Monceaux was with us from beginning to end as we had a home built by Ryan Homes. Her dedication and attention to detail made our experience easy and enjoyable. She is certainly an attribute to your organization. We will refer her to anyone we know who might be selling a home."
"Sarah Monceaux is AMAZING! She brings a great combo of knowing where to go in and around CVille, is able to go with the flow with any time frames, and is very well connected with lenders, title agencies, and the builders in the area. We went from an intro to Sarah to an offer on a home within a week, and she was a true delight throughout the entire process! You will be so happy with her as your agent."
"Sarah is an absolute gem! She is very knowledgeable, patient, and an excellent communicator. She made sure I understood each element of the selling process so we were always on the same page. It's clear she really cares about her clients and her work. I could not have asked for a better realtor to sell my home."
"We can't praise Sarah enough. We hadn't sold a house in a very long time and she patiently walked us through every stage. Her marketing was amazing and our house sold in a week. Whether buying or selling, she would be our choice for future transactions. We will always be grateful for her expert handling of our home sale. Thank you Sarah!!!"
"Sarah deserves this 5 star review all day, everyday! Sarah made the process of buying our first home SO easy and SO fun. She worked with our crazy schedules and was always able to accommodate our needs. She made everything so easy to understand and guided us through the process that we originally knew nothing about. She also got us the very first house we put an offer on!!! I am so grateful for Sarah, she was the best realtor we could have asked for!"
"Sarah Monceaux knows the market in this area really well and we found her to be a very honest / ethical person who advocates strongly for her clients. I'm really glad we had Sarah on our team when buying our new house and we look forward to continue working with her to sell our old house."
"Sarah Monceaux is an absolutely PHENOMENAL Realtor! She provided excellent and prompt communication from day one and she stayed in close contact all the way to closing. Even afterward she has still been extremely helpful in providing recommendations and just being super awesome and friendly! In between buying/closing she would just reach out to say hello! You will not find a more personable, caring, or attentive Realtor than Sarah. We found our absolute dream home and she got it for us at a great price in a very tough buyers market. Sarah makes you feel very valued and she is very genuine and clearly cares about her clients and her work. We plan on living here at Lake Monticello for many years to come and can't thank Sarah enough for all her hard work in helping us get here. ❤️❤️❤️"
"Sarah Monceaux was incredibly helpful, with us every step of the way, and helped us find a great property! Thank you!!"
"Sarah Monceaux sold my home in one weekend and it was hassle free. She was the most attentive realtor I have ever had and I have sold numerous homes in the past. She is so helpful and thorough. I recommended Sarah to anyone who needs to buy or sell a home!!!"
"Sarah was absolutely amazing! She always went above and beyond to support us through every step of the process. We couldn't have asked for a better person to have worked with to facilitate purchasing a home."
"We had the pleasure of working with Sarah Monceaux when selling our home last month. She's attentive, professional, courteous, and just really good at her job. We were under contract in about a week and very happy with the offer we chose. We look forward to working with Sarah again soon, so she can help us find our next home!"
"Sarah Monceaux is an amazing realtor. She was efficient and responsive, and guided me all the way to a successful home purchase. Even now, after settlement, she still keeps in touch and reaches out to help."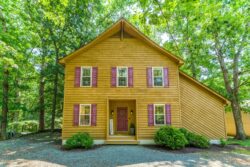 This lovely home is located on a quiet cul-de-sac street in Lake Monticello and ready for new owners! Have peace of mind knowing the roof, HVAC, windows, and water heater are all less then 10 years old!