Hi! My name is Paul McArtor. Gratefully the Air Force moved us to Charlottesville for my last assignment and we fell in love right away. Staying here here after I retired was an easy decision. I started doing real estate as a hobby while I was active duty including rehabbing houses, owning rental properties, and helping friends buy. It was an easy decision to put that 16+ years of experience to use and become a REALTOR.

I enjoy the problem solving of real estate. My job is done well when my clients think the whole process was easy and stress-free. I call myself a stress sponge. It's such a great feeling when clients get the keys to their new house or when my sellers get the wire from their sale.

As someone that wasn't born and raised in Charlottesville, I feel like I have a very important experience. I have moved to Charlottesville. I know the trials and tribulations of needing to find a new home in a new place. There are so many unique areas around Charlottesville with each having their positives and negatives. It's a benefit to my clients both local and relocating to be able to show these options and help them determine the best fit for them.

I love this job!
A few of my favorite things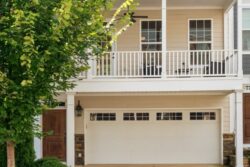 What more could you want in a townhouse!? The main floor boasts an open concept allowing natural light to flow through. The large upgraded kitchen with a gas range and tons of cabinet and counter space is made for the home chef.