Hi! My name is Paul McArtor. Gratefully the Air Force moved us to Charlottesville for my last assignment and we fell in love right away. Staying here here after I retired was an easy decision. I started doing real estate as a hobby while I was active duty including rehabbing houses, owning rental properties, and helping friends buy. It was an easy decision to put that 16+ years of experience to use and become a REALTOR.

I enjoy the problem solving of real estate. My job is done well when my clients think the whole process was easy and stress-free. I call myself a stress sponge. It's such a great feeling when clients get the keys to their new house or when my sellers get the wire from their sale.

As someone that wasn't born and raised in Charlottesville, I feel like I have a very important experience. I have moved to Charlottesville. I know the trials and tribulations of needing to find a new home in a new place. There are so many unique areas around Charlottesville with each having their positives and negatives. It's a benefit to my clients both local and relocating to be able to show these options and help them determine the best fit for them.

I love this job!
A few of my favorite things
Paul was truly an amazing asset to our home buying experience! He listened to our wants and needs, showing us homes in different parts of Charlottesville, helping us ultimately find a lot and then a home builder. He was a great communicator and really looked out for our best interests. I would recommend Paul highly.
Paul McArtor Is a wonderful agent that I would recommend highly to anyone I know is looking for a house. He is very willing to help and also answer any questions you might have. He makes recommendations on solutions to anything that might be a problem for you. And keeps working to help find you your perfect house. I would give him more than 5 stars if I could. Thanks to him we found ours.
"I highly recommend Avenue Realty. Paul is so, so great to work with. He really cared about finding us the right home. I was a first time homebuyer and I can't imagine going through the process without him. He went above and beyond and was always on the ball with everything from start to finish. We closed on our home at the end of April and I couldn't be happier!"
"Paul McArtor and Avenue Realty provided top quality service during the selling process of our townhome in Charlottesville. They provided us with staging advice, excellent photography, and the smoothest selling process we could have wished for. Paul and the Avenue Realty team, thank you again!"
"Paul was awesome to work with."
"I was very pleased with the service Paul McArtor provided. He went to great trouble to obtain information I requested about the property. He also secured the services of an excellent home inspector and helped me find contractors to assist with remodeling various aspects of the house."
"My husband and I just relocated to VA from TX. No easy feat. Paul McArtor assisted in helping us find a new home. Paul is friendly, professional and comes with a wealth of knowledge. He helped us in so many ways. I highly recommend Paul if you are thinking about any real estate transactions. Excellent service!!!"
"This was our second time working with Paul McArtor and it was once again a great experience. Paul was there every step of the way as we purchased our new house, providing his wisdom and insight in any and all situations. He is very available and always enthusiastic while his knowledge of homes and the home building/buying process is an unbelievable asset."
"Paul McArtor of Avenue Realty just helped us buy our first home and made what seemed an intimidating process at first go so smoothly - even with our limited budget. From explaining everything to us in detail, to answering questions we didn't even know we should ask, to stopping more than once to help my toddler get her shoes back on as we toured multiple homes... we couldn't ask for a more helpful and personable realtor. He was never pushy or impatient with us, truly seemed to care that we were happy with our purchase and has a whole team of people to recommend for every aspect of the home-buying process (all of which are just as helpful and personable as he is). Our family absolutely recommends hiring Paul McArtor as your next Charlottesville-area realtor!"
"Paul helped us to find an apartment with less than the time we were looking at with attaching us to a portal and as soon as anything posted we would able to see it. He is a really great responder and works through anything you would like to communicate with such as texting, calling, or email and follow up as much as he could to make sure we will get all information. I will work with him again soon. Thanks Paul for all the work you've done"
"Paul did an amazing job. He was able to market and sell my home all while I was out of state. Great communicator and was very diligent with details and time frames. I would definitely recommend him to any one looing to buy or sell. Thanks again Paul!"
"We worked with Paul McArtor when buying our home, and he was truly wonderful! He was incredibly responsive when we reached out (and proactively would reach out to us.) Additionally, he was so knowledgeable and made us feel much more confident in buying our first home! I cannot recommend him highly enough."
"Paul McArtor's knowledge and patience helped us find our forever home in Lake Monticello. Hes been a great source of vendors, painters, etc and always answered all our questions and concerns. What a pleasure working with Paul."
"Paul McArtor helped me buy a piece of land in Earlysville. I am a first time buyer and he was very patient and professional. He walked me through every step of the process and answered all my questions. He was easy to work with and very responsive to my calls/texts. If I have any real estate needs in the future, I will definitely reach out to him again. Highly recommended! Thanks, Paul!"
"Had a great experience with Paul McArtor at Avenue. He did a fantastic job of leading us through the process of selling our home, answering all of questions and explaining each step. We recommend him highly."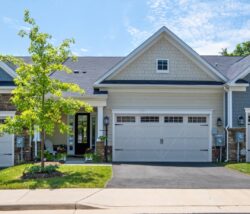 First floor living at its best! The better than new villa is ready for you. As you approach your new home, take in the view of Carter Mountain.