Hello! My name is Erica Gentile-Hussar and the Charlottesville area has had a very special place in my heart for almost two decades! As a JMU graduate who grew up in Northern Virginia, I moved to Charlottesville in 2002 and have never looked back!
My career started in retail during my Junior year at JMU. I went through an internship with GAP Inc. and fell in love. That is true on two accounts, I fell in love with the company, and I met my future husband while opening a store in Harrisonburg, Virginia! A career of 20+ years in retail sales and local media sales led me to take the step to become a REALTOR. I watched my brother-in-law help my husband and myself buy and sell a home and I was immediately drawn to it. This is one of the biggest decisions someone can make and getting to be a part of my client's journey is an honor and one I do not take lightly.
I have a passion for taking care of my clients and will do everything I can to provide the best experience possible. The best part I would say though, is the friendships that you make along the way. It doesn't stop at the closing table and that is what I find to be the most rewarding. I love what I do!
A few of my favorite things
Please add the following two reviews to Erica Gentile-Hussar's bio page: https://avenuerealtygroup.com/real_estate_agent/erica-gentile-hussar/ I had the absolute pleasure of working with Erica during my recent home buying experience, and I cannot express enough how thrilled I am with the service I received. From start to finish, Erica demonstrated exceptional professionalism, deep knowledge about the entire process, and was committed to ensuring my satisfaction. It is without a doubt that I wholeheartedly give her five-stars! Right from our initial meeting, Erica took the time to understand my needs and preferences, truly listening to what I was looking for in a new home. She was patient and worked with me during the home buying process from another state, demonstrating a genuine interest in finding the perfect property that aligned with my lifestyle and budget. Her expertise and insights into the local real estate market were invaluable, guiding me through each step of the process with confidence and clarity. Not only was Erica incredibly professional, but she also had a warm and personable demeanor that made the experience enjoyable. Her positive attitude and genuine enthusiasm were infectious and her support was amazing throughout the entire process and after the home was closed! I will definitely be utilizing Erica in my future home buying/selling!
WHAT AN EXPERIENCE!!! Erica provided a personal white-glove service throughout the listing and selling process. She cared about our timeless and preferences as if she were a part of our own family. An easy transition 100% attributed to our realtor and would recommend her again and again!!!!
"I worked with Erica to buy a townhouse, she made it easy and stayed on top of everything. She tracked down the answer to every question I had, she got ahead of issues with the bank and title service before they became problems, and did extremely helpful things like sending me the info to get the utilities set up. I would 100% recommended working with her."
"Erica helped us to find our first home, and I don't think the experience could have been any more positive. As first time home buyers, Erica took the time to explain every detail to us and made us feel comfortable as we navigated through the whole complicated process. She was so extremely accommodating while working with our schedule and was as hands-on as we needed her to be at every step in the road. She is so very knowledgeable about the Charlottesville market and I would definitely recommend her to anyone who is looking for a realtor."
"My family moved to C-ville in the spring and began working with Erica Gentile-Hussar to find our new home. Erica was incredibly knowledgable about the area and super insightful when it came to the ins and outs of finding our perfect home. Thanks to Erica's support and patience we found the ideal home for us! Highly recommend Erica from Avenue Realty!"
"Avenue Realty was recommended to us by a friend and we ended up working with specifically with Erica Gentile-Hussar. Working Erica to buy our home was the best decision we made during the whole process. As first time homebuyers she did not mind our many, many questions and was able to answer all of them quickly and knowledgably at any time of day. We knew we could trust her to be honest and give us her genuine opinion. In addition, the sellers left the house in a less than optimal condition and she paid to have cleaners come (who did a great job) out of her own pocket as a gift to us. She went above any beyond in every way and I would recommend her to anyone."
"Five stars does not suffice for Erica – I would give her more if I could! We worked with Erica to sell and purchases our homes. This was our first time selling a home and Erica beautifully guided us through the process. To ensure there were no surprises, she guided us through each stage and explained everything to us in advance. She was incredibly helpful and patient when we purchased our home as well. If you a question, she can answer it. If there are tricky situations you need to work through, she will help navigate those with you. If you need help with something right away, she is very prompt in her responses. Erica clearly loves her job and is so good at what she does! I cannot recommend her enough!"
"Erica and Avenue Realty were recommended to us by a friend. Being first time home buyers we had a ton of questions and concerns but Erica was very patient, knowledgeable and prompt in her responses. She made sure to understand our needs while guiding us on what was happening and what to expect every step of the way. Her recommendations were always spot on and she went above and beyond in navigating us through the whole process as efficiently as possible. She is truly a wonderful person and was a godsend. I would definitely recommend her to anyone looking for a real estate agent."
"We have nothing but great things to say about Erica from Avenue Realty! My husband & I were relocating from Texas to Virginia and having her on the ground in VA was a life saver! She went way above and beyond what we expected. No task too big or small, she was always eager to help and answer our non-stop questions. Absolutely the best possible experience!"
"It was our good fortune when we approached Erica Gentile-Hussar and asked if she was a realtor. From day one she was informative, helpful and johnny-on-the-spot. We were comfortable with her recommendations and always felt that she had our best interest in mind. Whether you are the buyer or the seller of the home the process can be very stressful. Erica guided us through that process quickly (our house was under contract in 2 days) and helped alleviate the stresses of the process. We will definitely be calling on her in the future if and when we are looking for our next home."
"Erica ROCKS! It was pure luck that we got connected with Erica through a listing site. And I am so glad that we did. She is everything we could have hoped for. First time homebuyers here. So naturally we had a zillion questions. She answered all of them and more. Walked us through the entire process and made sure we were comfortable with every decision we made. We had tons of 'requirements' and she helped us find the perfect home for our family. We are so grateful for all her help. We will recommend Erica and Avenue Realty to anyone and everyone! Thank you Erica!"
"Erica has sold me on what a great agent is and should always aspire to be... client-centered, responsive, knowledgeable, meticulously-organized, professional, patient, and efficient. She worked diligently on behalf of our family, putting her heart and mind into making sure that our transaction went as smoothly as possible. Erica skillfully negotiated our deal with integrity, and has my utmost respect for trying to consistently do the right thing. Besides being an amazing realtor, she is truly a decent, compassionate, kind, and caring person. Our family is blessed to have had Erica represent our best interest during our home purchase. She has gone above and beyond every step of our journey. Without hesitation and unwavering confidence, I would recommend Erica to others who are looking for the "complete-package" in a highly-dependable and trustworthy realtor. Thank you, Erica and Avenue Realty, for your service."
"Worked with Erica Gentile-Hussar. She was great! I live in Glen Allen and needed someone to help me sell a rental property in Charlottesville. I decided to interview two realtors. Erica was amazing during the interview. She was prepared, she gave me comps to look at and was able to fully articulate why she was the best person to work with me. Overall, she made me feel that she had my best interest at heart. I decided to contract her services and was not disappointed. Erica was professional and I felt that she had my back. She worked very well with my tenants and she was very respectful of the fact that they were still living at the property while the house was being shown. Erica helped me schedule contractors (power washing house, fixing siding, termite inspection etc). Erica was very easy to communicate with. We ran into some issues at the end: the buyer did not show up to closing and wanted extra time to close. However, Erica remained professional throughout the process. She kept in touch with the purchasing agent and with my lawyer and kept me informed throughout the process until the buyer finally signed the closing documents. Overall, I only have good things to say about Erica. Thank you Erica and thank you Avenue Realty!"
"Erica is an excellent realtor. We couldn't have done it without her expertise. She has been extremely patient and very response. Since we didn't live in the area, she went beyond and above to help us with the process and accommodate our schedule. The best part was that she managed to negotiate on our behalf and get us moved in earlier than expected. She is a pleasure to work with!"
"We worked with Erica to purchase a home from 5 hours away with three small children. Talk about stressful! Not only did Erica make it a seamless process, but it was actually enjoyable! She was extremely responsive, professional, and trustworthy. She was available and accommodating for showings both in person and virtually. Erica was very knowledgeable about the industry and walked us through every step of the way. During the negotiating process, she always had our best interest in mind. She always responded to me quickly and sent any docs to be electronically signed right away. She was also really personable, I felt like I was working with a friend rather than someone I had only known for a short amount of time. We absolutely love our home, but Erica would be my first call if we ever decided to move!"
"Erica was amazing to work with. She was always responsive and ready to go wherever my husband or I would request to see a house. She made our experience easier just by always been there and negotiating everything for us. We are truly thankful for all that she has done from the beginning until the "end"!"
"Working with Erica Gentile-Hussar and Avenue Realty made the entire house-buying process completely painless! She found my dream house and notified me within five minutes of it being listed, and even though there were eight other offers, she worked with the sellers to make sure I got the house that I wanted. I had never bought a house before so she walked me through every step of the way and made the process simple and easy to manage, she also always responded to my emails and questions within minutes and I never had any issue getting into contact with her. I highly recommend working with Erica - she really knows what she's doing!"
"Our realtor, Erica Gentile-Hussar is THE BEST! Every step of the way, she was responsive to our needs. She quickly ascertained the qualities of house we desired, and helped us hone in on the perfect new home for us. Our final negotiations with the seller were challenging; but Erica championed our cause and helped us navigate the final steps with ease. We could not be more pleased with our new home, which was made possible with Erica's help and expertise."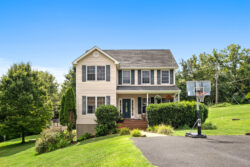 Welcome to 185 Angie Place! This charming three bedroom, two and a half bath colonial has so much to offer including an eat-in kitchen, spacious master bedroom with a walk-in closet, large vegetable garden and more.