Hello! My name is Stephanie Shellenberger and I am a native of Charlottesville. I love my hometown and am proud to call Charlottesville home. My husband and I could not think of a better place to raise our son! I enjoy sharing the many stories and history of this wonderful place we call home.

I started a career in real estate because I have always loved looking at homes, land, decorating and I love helping people. While my family and I have lived in Charlottesville our whole lives, we have lived in many different areas throughout. I know from my own experiences how important it is to have a Realtor whom you can trust and that will respond to your needs. Compassion, trustworthiness, organization and excellent listening are the personal skills and attributes I bring to the table. I also bring many traits from my experience as an Albemarle County educator of 20 plus years and highly value building strong and lasting relationships.

I know how important it is to find the home you love and I will listen and help you find that special place. Put your trust in me and we will make it happen.
A few of my favorite things
Stephanie was great to work with. She listened to my needs and kept in touch with me. I feel she went beyond and above her responsibility. I would definitely recommend her for anyone that is in the market to purchase a new home.
"I have sold two houses prior to this, and I would describe Stephanie's level of commitment as exemplary. She was actively involved from the very beginning to the closing - and even beyond. She made this daunting task less stressful with her strong organizational skills and tireless energy!"
"It was so nice to work with Stephanie Shellenberger. She knows the market, she's a total pro. We moved to VA from another country, and she did everything she could to make things go smoothly. Even after we closed, she continued to help us along the way until we were settled into our new home with our two young kids. Thank you Stephanie!"
"Stephanie at Avenue Realty was a tremendous resource, advocate, and cheerleader for my wife and I as we navigated the complex world of home buying. This was our first home buying process, and Stephanie made the process so much more straightforward and enjoyable for the both of us. She was always quick to respond and answered all of our questions and inquiries thoroughly. Her knowledge and efficiency helped us to find and purchase our new home, and we couldn't be happier with it! We highly recommend Stephanie to anyone looking to purchase a home in the Charlottesville area!"
"Stephanie held our hand every step of the way. She understands the stress and emotions that are tied to the purchase of a home; her empathy kept us on track and we bought the perfect place. A caring and dedicated professional, Stephanie Shellenberger is an outstanding real estate agent and advocate."
"Stephanie was a class act from the very beginning. Always willing to take a call, text, no matter what time of day or night. Super professional, very prepared and informative. Would recommend Stephanie to anyone."
"We used Stephanie from Avenue Realty for the purchasing of our new home and the selling of our first home. We weren't in the process of looking when we randomly came across a listing that checked all the boxes. Friends referred us to Stephanie. We saw the house, made an offer a few days later, our offer was accepted and our house sold over list price (before going live) in a week! Stephanie went out of her way to herself available to us and make the process as easy as possible. We are now in our new home and love it!"
"Stephanie Shellenberger is a solid professional with great communication, clear explanations, and a vast knowledge of the business. She also has a network of professionals to help traverse various needs. I highly recommend."
"She becomes your teammate, advocate, and advisor; yet she's always working for you, and has your best interest at heart. If you're selling or shopping, consider Stephanie Shellenberger at Avenue Realty."
"Stephanie was so helpful; she got to know what we wanted in a home, answered all of our questions, and made sure that we found the right fit for us. She worked well with our mortgage loan officer, home owner's association, and the title office to make sure everything was squared away for closing and beyond. Thank you, Stephanie!"
"Working with Stephanie Shellenberger took as much anxiety out of selling our home as imaginable. While it can always be stressful, she exudes wisdom and confidence in the realty business, and gave us a level of comfort I couldn't have anticipated. Can't recommend her enough!"
"Stephanie Shellenberger deserves more than a five-star rating. She made the sale of our home such an easy process for us. She is a delightful person and an even better realtor. She is professional, persistent, and thorough. She handled tough issues (timing between a sale and a purchase) quickly and successfully. She was always two steps ahead of us in making sure everything was handled efficiently. She responds quickly to any method of communication and genuinely cares about her clients. We are so glad that we met Stephanie and worked with her. We can't recommend Stephanie enough!"
Positive: Professionalism, Responsiveness

Stephanie is AMAZING!!! She was suggested to us by a family in our subdivision who had sold their house a couple of months before we did, and we could NOT have asked for a better realtor or experience!

She is always happy, positive, "knows her stuff," always keeps you updated, quick to respond, helps with the anxiety of selling your home, I could go on and on! If you are selling your home in the Fluvanna area, you have GOT to ask Stephanie to help you!!!
Positive: Professionalism, Quality, Responsiveness, Value

Stephanie always goes the extra mile. She spent time getting to know us and gave us real and genuine advice based upon our home needs and wants. Stephanie is a Charlottesville native and knows the area neighborhoods and best local builders.

She is so responsive and constantly supplied us with information and new listings. Best of all, Stephanie is an agent that looks out for her clients and makes the daunting task of finding a new home pleasurable. Thank you, Stephanie!
Positive: Professionalism, Responsiveness

When my husband and I decided to sell our home, we looked for a realtor who could match our attention to detail and maximize the return on our investment. We found that in Stephanie Shellenberger!

She was very responsive, gave great advice, and stepped in during many appointments so we did not have to miss work. While hosting our open house, Stephanie was very respectful of our home, making us feel comfortable throughout the process. We sold the property within one week thanks to Stephanie's expertise!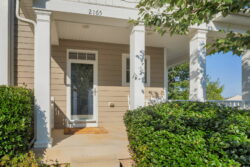 You'll love this beautiful corner townhome located on Pantops close to Downtown Charlottesville, UVA and 64. This townhome offers two suites creating a versatile and convenient floor plan.