I have been a REALTOR with Avenue Realty in the Charlottesville, VA area for the better part of a decade and I am also the Co-Owner of Make it Home Staging and Design.
As your real estate agent, my role is to be your trusted advisor and to make the process of buying or selling as stress free as possible. I leverage my years of experience, resources and extended team to provide a concierge level experience when you are buying or selling a home. My top priority is protecting your best interest and reducing the risk to you and your largest investment.
As your Realtor, I regularly use my experience as a designer and stager to support my clients and their real estate goals. If your home needs a refresh and/or staging for sale, my team and I work in lock-step to manage the upgrades/repairs and staging so that we put your best foot forward in my first class marketing so you sell FAST and for TOP DOLLAR. We'll make those buyers fall in love with their new HOME!
I also love helping people find and make a house their HOME. I help my buyers search for the right house, see the potential, and can even imagine and create the HOME of your dreams.
Having made Virginia my home for almost 20 years, I have fallen in love with these Blue Ridge Mountains and warm and welcoming people. I live for the moments my husband, three boys, and I gather around the dinner table and celebrate life's events. 
At my home, we create memories and messes and tears and laughter with 2 dogs, 3 cats and a touch of chaos! You'll find us pouring love into our 150 year old farmhouse or hiking a trail on our free days. But my favorite place on earth is my front porch, taking in the scenery with a good book or enjoying time with friends. As it's often said, "there is no place like home." – and we Make it HOME together!
A few of my favorite things
"Our agent Stasia Rice was awesome! She is enthusiastic, knowledgeable and worked very hard to make our home search and subsequent purchase smooth. It was a stress-free, enjoyable experience from start to finish."
"Stasia was an amazing agent. She made everything so easy and is deeply knowledgeable about all things houses. I would recommend her to anyone!"
"Have had great experiences with Stasia Rice at Avenue Realty -- both as a buyer's agent and seller's agent. Highly recommend."
"Stasia Rice went way above and beyond for me during the whole process homebuying process. I very highly recommend her and the team at Avenue if your looking for a realtor/realty company."
"Stasia helped us with the process of selling our home from staging it to closing. I was pleased that the house sold within a few days of her listing it. She is is always pleasant, knowledgeable and attentive. She is also very helpful. She even helped us out by taking a load of our stuff to the landfill in her truck! She's an awesome realtor! I highly recommend her."
"Stasia did an amazing job selling our house. She was very responsive and helpful every step of the way, and made our first time selling a home comfortable and easy. I highly recommend Stasia and Avenue Realty to anyone thinking of selling their home."
"Stasia went above and beyond for my family and I. She worked us through every little stressful detail and as always with a smile on her face. I would recommend her over and over and over she is a true professional."
"Stasia Rice was wonderful with selling our house. Her schedule was very flexible and her emails and texts were very timely. The process was very effortless, easy and less stressful with her advice. I would highly recommend her for selling or buying a house."
"With our second purchase, earlier this year, we decided again to go with Stasia and Avenue. Stasia again worked diligently, was always responsive and professional. We are still so very happy to have met Stasia, and will continue to choose her and Avenue Realty for future purchases and/or sales."
"Stasia was, and continues to be, the best! I purchased my first home with her in 2018, and she made the process a breeze - even for a first time home-buyer! Fast forward three years later, she helped me sell that home, as well as another in the family, and coordinated a purchase, all during unprecedented times during the COVID pandemic. Again, a painless and easy process with both her real estate skills, as well as her interior design / staging knowledge that was very applicable to selling both homes. Do not hesitate to call the team at Avenue and speak with Stasia. She's not afraid to get into the right places, deal with the right people, and make your buying or selling process as painless and stress-free as she can. We definitely recommend her to friends and family who are in need, and definitely want to recommend her to you all as well!"
"Stasia Rice at Avenue Realty was wonderful to work with. Responsive, personal, and knowledgeable. Highly recommend!"
"Stasia is an excellent and experienced realtor who shows genuine interest in what you'd like as a homeowner. She and her team are very knowledgeable, and I felt comfortable and very pleased with my experience!"
"Stasia was an incredible realtor. She helped us from start to finish. We were first time home sellers and we only owned our home for 6 mos. We had a time crunch to sell. She helped us make the money we needed and then some. Highly recommend!"
"Stasia is the BEST! She was very patient and intuitive to our wants and needs in a house. She is very knowledgeable of the market and the area. Stasia made sure she had our best interests in mind. We are pleased with our experience and new home. We would use her again and HIGHLY recommend her!"
"Stasia was professional yet so personal and that goes a long way! I truly appreciate everything and wish I would have listened when she told me to take a few days to think about everything. But as far as the selling, brochures and house cleaning, just top notch! If you want to sell, do yourself a huge favor and contact Avenue Realty; they're absolutely the very best!"
"Stasia was awesome! She helped us in 2014/2015 buy our first home, then again last year with selling our second home in Lake Monticello. She listened to all that we wanted to put in our listing, worked hard doing open houses and got us the best price that we could get for selling. If we ever look to move back to that area we will definitely be using her for our agent."
"When we decided to move and purchase a home, my fiancée happened to be the one to come across Stasia Rice and Avenue Realty. Stasia and the Avenue team helped us tremendously and worked diligently to help us in purchasing our new home. For any future purchase we will certainly choose Avenue and recommend that you do as well."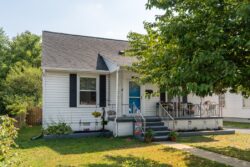 Welcome HOME! This cute and cozy home is ready for you! It begins with an open living room with lots of natural light perfect for any plant lover. The living room flows right into the recently renovated kitchen which boasts a cozy eat-in dining space and spacious pantry. There are two main level bedrooms, one of which could easily be converted into a home office. A full bath and laundry closet finish off the main level.