My name is Lilia Pérez Kerley. I was born and raised in Puerto Rico and moved to the continental United States in 1987 to attend college. After 33 years in the US, I call this great country my home. My family relocated to the Charlottesville/Albemarle area with our one-month old daughter, Alexandra, twenty-two years ago. Add two teenage boys to the mix, Lucas and Xavier, and there's no lack of laughter and craziness in our home. I love our home and all things house related. Ask me to organize your closet, stage your home, help select paint colors… I'm there!
I attended American University in Washington, D. C. for my B.A. and the University of South Florida for my M.B.A. I started my career in Marketing and Sales and transitioned into teaching once I became a mom. I have been an elementary school teacher for the last 20 years. A couple of years back, I decided to pursue another love and received my real estate license. I believe both careers are about relationships and helping someone else achieve their goals. It's been an absolute joy to work in this industry! When I'm not assisting clients, I enjoy spending time with my family and friends, watching movies, going on walks, cooking, and reading.
Having lived in Washington, D.C., Florida, California, and Virginia, I know that relocating, locally or from another state, can be stressful and sometimes overwhelming. I strive to make this transition easier. Whether you are buying, selling, or looking for answers, my enthusiasm to help and attention to your needs and best interests helps ensure you have the best possible experience.
From buying your first home to selling your last one, it would be my pleasure to work with you!
Si deseas vender o comprar una casa, me encantaría ayudarte. ¡Llámame!
A few of my favorite things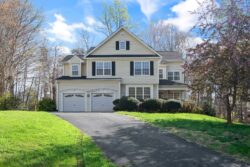 Beautiful, spacious, and updated home conveniently located near Route 29 N, NGCI/ DIA & Research Park, and within 15 minutes of UVA and all things Charlottesville.