My name is Lilia Pérez Kerley. I was born and raised in Puerto Rico and moved to the continental United States in 1987 to attend college. After 33 years in the US, I call this great country my home. My family relocated to the Charlottesville/Albemarle area with our one-month old daughter, Alexandra, twenty-two years ago. Add two teenage boys to the mix, Lucas and Xavier, and there's no lack of laughter and craziness in our home. I love our home and all things house related. Ask me to organize your closet, stage your home, help select paint colors… I'm there!
I attended American University in Washington, D. C. for my B.A. and the University of South Florida for my M.B.A. I started my career in Marketing and Sales and transitioned into teaching once I became a mom. I have been an elementary school teacher for the last 20 years. A couple of years back, I decided to pursue another love and received my real estate license. I believe both careers are about relationships and helping someone else achieve their goals. It's been an absolute joy to work in this industry! When I'm not assisting clients, I enjoy spending time with my family and friends, watching movies, going on walks, cooking, and reading.
Having lived in Washington, D.C., Florida, California, and Virginia, I know that relocating, locally or from another state, can be stressful and sometimes overwhelming. I strive to make this transition easier. Whether you are buying, selling, or looking for answers, my enthusiasm to help and attention to your needs and best interests helps ensure you have the best possible experience.
From buying your first home to selling your last one, it would be my pleasure to work with you!
Si deseas vender o comprar una casa, me encantaría ayudarte. ¡Llámame!
A few of my favorite things
"Lilia Perez is the best you can ask for in the field of real estate. She is professional, with thorough knowledge, and yet offers a personal touch. She works with the clients diligently and with care offering suggestions and navigating the complex process of the transactions. I have been very pleased with the fast, efficient, and successful service she offered and I fully endorse her without any hesitation."
"Lilia was wonderful to work with! She worked very hard to find us our dream vacation home and we could not have found it without her! She is kind, hard-working and professional. She was responsive and found answers to all of our questions during the sales process. I highly recommend Lilia and Avenue Realty!!"
"Our realtor, Lilia Pérez Kerley was great. Besides being bilingual (English + Spanish), she was really thoughtful, patient and kind. Best realtor we ever engaged with. Very recommended!"
"Lilia was our agent and was darn good at it! She helped us through every step of the way. Lilia is patient, kind, flexible and genuinely cares about her clients. I had the outmost pleasant experience with Lilia and I would definitely choose Avenue Realty for future purchases. My partner and I, are first time home owners and Lilia and her team made everything feel so efficient and smooth through the entire process. When touring homes, Lilia, was very descriptive and knowledgeable about every home which made us feel very comfortable in choosing the right home. There were days where a home would come up that we would want to see and Lilia would get us a touring within minutes!! She is one of the most dedicated realtors I have ever met. She is a person that when you meet her, it is not awkward and she welcomes you with open arms. We now have our first home and we could not have done it without Lilia's expertise and guidance. Lilia is the person to go to when buying a home!"
"Lilia was a life saver for us while looking for a home in the Charlottesville area. She was considerate and professional and went well beyond the call of duty after helping us find and purchase the perfect home. Since we were buying a home from out of state, she took care of many details we could never have managed without her. Lilia helped us get painting quotes, took a lot of extra time to help us find services in the area and even brought mail and packages inside for us! I would highly recommend working with Lilia for your real estate needs. She really cares about her clients and I cannot imagine this move without her kindness and generosity of time and attention to all details."
"I've known Lilia Perez Kerley for more than 30 years, and I can attest to her love of making sure you feel at home. She exudes warmth and brings that to everything she does. If you are looking for a place to call your home, Lilia will not only find it, she'll help you get it ready!"
"Couldn't find a better realty group to work with! Lilia Kerley goes above and beyond to find your dream home!!"
"Trust is a huge factor when it comes to buying and selling homes. Lilia Kerley is not only knowledgeable, but trustworthy and really gets to know her clients. I would definitely recommend her and Avenue Realty for all your home buying needs!"
"Ask for Lilia Kerley! She is the most helpful and sweet lady. She helped us a tremendous amount throughout the process of buying a home, and she took a lot of stress off our backs. Lilia is doing a tremendous job working with Avenue and hope to see it continue"
"Lilia Kerley, very responsive and excellent communication skills, pleasure to work with her. She was great because she speaks Spanish and English which helps me better understand this market. I preferred Spanish because it is my first language and she was there to answer all my questions in Spanish. Thanks Lilia!!"
"Lilia Kerley was always available to answer all of our questions. She kept us updated through all the process and looked for the best options. She is a very professional realtor that will take you by the hand and lead you in the right direction."
"Lilia Kerley from Avenue Realty gets my number one recommendation! Lilia is so organized, professional and works tirelessly for her clients. She has a strong work ethic that comes across straight away. It is a pleasure to work with someone who is so dedicated."
"I would like to highly recommend Lilia Kerley and Avenue Realty. Lilia does an amazing job by being so professional and client centered!"
"Lilia at Avenue Realty is the definition of professionalism. She is extremely patient, helpful, and responsive. You will not regret asking for her!"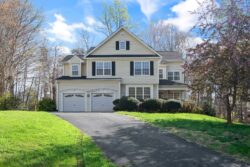 Beautiful, spacious, and updated home conveniently located near Route 29 N, NGCI/ DIA & Research Park, and within 15 minutes of UVA and all things Charlottesville.