Hello! My name is Caitlin Lennon, and I'm a former professional ballet dancer turned Realtor. I grew up in the mountains of Montana, but my dancing career brought me to the East coast, and eventually to Charlottesville in 2008. I had the great pleasure of working with Avenue several years ago when I was looking to buy my first home. As Avenue co-owner Amy Cochran could probably tell you, I was an extremely eager buyer, and have found myself drawn to real estate ever since (cue the years of obsessive daily Zillow listing checking and stalking houses for sale in my neighborhood).
Buying or selling a home is a huge step in your life- and I'm excited to help guide you through the process! As a former professional dancer and teacher, I bring an extraordinary level of precision and attention to detail to the table. I've always been passionate about helping people and making a difference in my community- let me put these skills to work for YOU!

When I'm not working, I can be found traveling the world (yacht tour in the Greek islands, anyone? Surfing in Costa Rica? How about jumping off a cliff in the Swiss Alps?), or, more realistically, hiking sections of the Appalachian Trail and camping with my dog, Cooper the corgi.

I look forward to hearing from you and helping you on the journey of home ownership!

A few of my favorite things
Positive: Professionalism, Quality, Responsiveness, Value

Caitlin Lennon was Fantastic. She guided us step by step through the process. She made suggestions that were great related to the HIRCA report -what we should fix prior to closing, what we should offer the buyer in closing, & what we should say no to. She provided us with contractors when needed. She kept us updated on a regular schedule and then once the property was under contract an almost daily basis.

When we could not schedule to be present for the contractors, Caitlin volunteered to be there.This was my first time selling a home and Avenue Realty was well worth worth their commission. Hiring Avenue Reality was the best decision we made!
Caitlin was incredibly helpful throughout the entire process of selling my place. Her communication made the process seem very smooth and transparent. I was away for the majority of the sale, so she did a great deal of the work "on the ground." If you need to sell your place, I'd highly recommend Avenue and Caitlin!
Positive: Professionalism, Quality, Responsiveness, Value

I cannot say enough good things about Avenue Realty, especially Caitlin. She went more than above and beyond and make the whole experience of my home purchase a breeze. She is very responsive and very experienced. If you are purchasing in the Charlottesville, VA area, you can't find anyone better.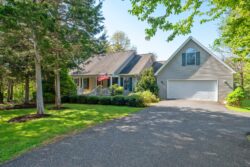 This impeccably maintained home sits on a gorgeous corner lot with mature trees and landscaping, is located one block from the lake and is easily accessible from the main gate.