Hello! My name is Caitlin Lennon, and I'm a former professional ballet dancer turned Realtor. I grew up in the mountains of Montana, but my dancing career brought me to the East coast, and eventually to Charlottesville in 2008. I had the great pleasure of working with Avenue several years ago when I was looking to buy my first home. As Avenue co-owner Amy Cochran could probably tell you, I was an extremely eager buyer, and have found myself drawn to real estate ever since (cue the years of obsessive daily Zillow listing checking and stalking houses for sale in my neighborhood).
Buying or selling a home is a huge step in your life- and I'm excited to help guide you through the process! As a former professional dancer and teacher, I bring an extraordinary level of precision and attention to detail to the table. I've always been passionate about helping people and making a difference in my community- let me put these skills to work for YOU!

When I'm not working, I can be found traveling the world (yacht tour in the Greek islands, anyone? Surfing in Costa Rica? How about jumping off a cliff in the Swiss Alps?), or, more realistically, hiking sections of the Appalachian Trail and camping with my dog, Cooper the corgi.

I look forward to hearing from you and helping you on the journey of home ownership!

A few of my favorite things
"Caitlin was wonderful to work with when selling our home and relocating out of state. She was so easy to reach with any questions and for updates along the process. I really appreciated her always keeping us in the loop and taking care of any questions that came up during escrow and leading up to closing. I would definitely recommend her to anyone selling in Charlottesville or the surrounding areas."
"Caitlin Lennon was the best realtor I could have asked for, especially as a first time home buyer. Patient, helpful, and super encouraging! I highly recommend working with Caitlin or anyone else at Avenue Realty."
"I cannot say enough about the incredible positive experience of buying a home with Avenue and specifically Caitlin Lennon! I am forever grateful to Caitlin for how she found me my home and walked me through every step of buying my first house. She was proactive, finding me an off market listing that fit my needs; a great educator, explaining each part of the home buying process; well connected, matching me to other outstanding lenders, settlement company, and contractors and explaining their roles; and she was fast in her responses to questions, forms, and solving problems. She truly cares for her clients and supports them through the emotions of making big beautiful life choices. She managed my unique situation of being on a work contract out of state and made the process go as smoothly as possible. Caitlin expressed such genuine care and support with excitement and honesty that I felt confident and empowered throughout the experience. I could not have asked for a better realtor, team, and home buying adventure."
"Caitlin was the consummate professional leading us the entire way from the initial listing of our home to the final paper signing. We couldn't have expected a better experience. Thank you Caitlin."
"Caitlin Lennon was fabulous to work with. She was always responsive to questions and communicated professionally. I now consider her a friend!"
"Caitlin Lennon did an amazing job as my realtor! Our selling situation was a sticky one, but she navigated repairs, last minute changes, and other unexpected events with professionalism and speed. She was excellent about communicating with me about clear next steps and very personable. Thanks to her, my house sold for a very reasonable price to happy buyers and happy me 🙂 I highly recommend her to anyone needing a realtor in the Charlottesville area."
"Caitlin Lennon was recommended to me and I found out why. As a first time home buyer I had a lot of questions, and didn't quite know what would be the right home for me. When it turned out my home was in another town and county, Caitlin was encouraging and always available. When the contract for the home became complicated, Caitlin always presented me with all the options and we discussed each choice carefully. I feel really grateful for her expertise and effort, and how she always kept my interests first. Thanks Caitlin!"
"Caitlin from avenue Reality was great. She kept us in the loop, explained everything (multiple times on more than 1 occasion), responded very quickly and took a genuine interest in our family. I would highly recommend her or anyone from their team."
Positive: Professionalism, Quality, Responsiveness, Value

Caitlin Lennon was Fantastic. She guided us step by step through the process. She made suggestions that were great related to the HIRCA report -what we should fix prior to closing, what we should offer the buyer in closing, & what we should say no to. She provided us with contractors when needed. She kept us updated on a regular schedule and then once the property was under contract an almost daily basis.

When we could not schedule to be present for the contractors, Caitlin volunteered to be there.This was my first time selling a home and Avenue Realty was well worth worth their commission. Hiring Avenue Reality was the best decision we made!
Caitlin was incredibly helpful throughout the entire process of selling my place. Her communication made the process seem very smooth and transparent. I was away for the majority of the sale, so she did a great deal of the work "on the ground." If you need to sell your place, I'd highly recommend Avenue and Caitlin!
Positive: Professionalism, Quality, Responsiveness, Value

I cannot say enough good things about Avenue Realty, especially Caitlin. She went more than above and beyond and make the whole experience of my home purchase a breeze. She is very responsive and very experienced. If you are purchasing in the Charlottesville, VA area, you can't find anyone better.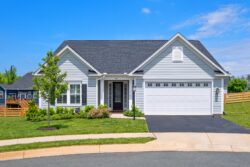 Welcome home! This immaculately maintained 3 bedroom, 2 bathroom house is located at the end of a quiet cul-de-sac in the gated community of Spring Creek.