Hello!

I'm Stasia Rice, and I'm so glad to have the chance to share a bit about myself with you.

My closest friends and family would say that I LOVE all things house and home. But, I will tell you it is love and necessity. Our homes are so important in our daily lives from influencing joy and comfort to making life easier with ideal floor plans or locations. A house is just a structure until you find the right one to 'Make It Home,' and that is exactly what I find passion in helping my clients do.

As a real estate agent, I believe it is my role to make the process of buying or selling as stress free as possible, but it is also my responsibility to look out for my clients best interests, to negotiate the best options for them and their lifestyles, and to provide the best options when leaving a house or finding their next home.

My goal is help everyone find the peace and happiness that I have with my own home. For me, I love relaxing on my front porch and taking in the scenery with a good book. I live for the moments my husband, three boys, and I gather around the dinner table and celebrate life's events. At my home, we create memories and messes and tears and laughter. I want to help you find the perfect home too. It's often said, "there is no place like home." So the only questions are what does home look like to you, and how can I help you find or create those dreams?
A few of my favorite things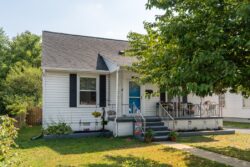 Welcome HOME! This cute and cozy home is ready for you! It begins with an open living room with lots of natural light perfect for any plant lover. The living room flows right into the recently renovated kitchen which boasts a cozy eat-in dining space and spacious pantry. There are two main level bedrooms, one of which could easily be converted into a home office. A full bath and laundry closet finish off the main level.