Originally from New Hampshire, Melissa grew up working in her family's small hotel on the coast, where she inherited an entrepreneurial spirit from an early age. She has lived in Virginia for over 17 years. After earning her master's in journalism and working for a small town paper, Melissa joined the College of William and Mary to serve as Director of Alumni Communications for 11 years.

In 2011, Melissa relocated to Charlottesville with her husband and in 2014 she became a realtor. She excels at listening to people, asking good questions and understanding people's needs, as well as negotiating contracts. She also makes it a point to know what's happening around town in real estate and on the culture and food scene, which is one of Charlottesville's many treasures.

Communication skills come in handy in the real estate business where there are so many media outlets to market your home. Melissa understands the importance of online media and how professional photography can make a difference. She lives in Belmont with her husband, a retired Army officer. She loves to walk the Downtown Mall any time of the year and shop in the Farmer's Market when it's open. The proximity to everything from restaurants and entertainment venues to church and fitness amenities attracted them to live close to the hub of Charlottesville. Melissa also enjoys the easy escape to the country to watch polo, ski or hike in the mountains, kayak the James, or simply sip some of the outstanding local Virginia wine with friends. Melissa looks forward to helping you buy or sell your home.
A few of my favorite things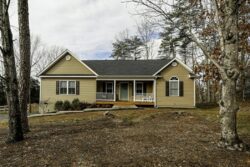 Enjoy winter mountain views from this elevated, nearly level lot in Twin Lakes. This one-level living home with fenced back yard is practically new.