Hi there! My name is Christina Graham, it's so very nice to meet you. Thank you for taking the time to learn and little bit about me and my passion for real estate!
I moved to Charlottesville back in 2014 after graduating from Longwood University, Go Lancers! I have fallen absolutely in love with everything C'ville has to offer, from the views, the food, the music, and the unique homes! I have always had a passion for real estate, HGTV is, of course, my go to channel. I love everything about the home buying/selling process, and the impact made on the lives of families. It wasn't until my husband and I bought our house in Charlottesville that I said, "I want to be that person that helps families find their dream home".
This is my goal for you. I want you and your family to have the best, most exciting home buying/selling experience. Let's start this journey together! Welcome to the Avenue family! 
A few of my favorite things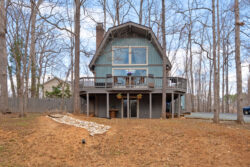 A true must see home in Lake Monticello. Extremely cute home that has been meticulously cared for and is within steps to the Lake.