The top trends in interior design for 2021 include a few adaptations from the past, plus some new and original ideas that bring a fresh outlook to design concepts. Incorporate some of those design ideas along with examples of what will be trendy in 2021 and beyond. After all, you want your home to look its best in the new year. Look at some of the interior design ideas given here.
The Cottage Look
When you think of a cottage, you immediately imagine a welcoming and cozy space. There something about the feel of a small simple cottage that exudes warmth, relaxation and comfort. You can easily adapt many home decorations that fit into the look of a cottage.
Balance some of your older pieces that harmonize with the looks of beams, wooden floors and paneled walls. If you're into reclaimed wood, you can create a cottage masterpiece. Accessorize up or down with textural leather pieces and add an even more rustic look with fabrics in gingham and checks. Coordinate them with muted pastel walls and add quaint prints, patterns and home decorations.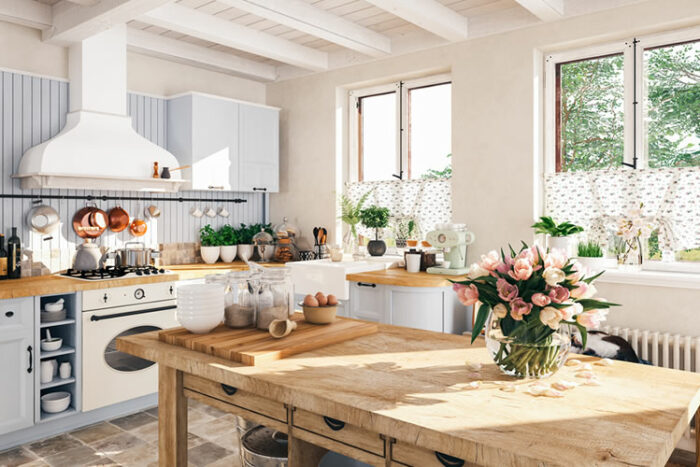 Natural Paint Colors
Using earth related paint color palettes are a simple way to make changes and enhance your walls. Warm greens, rusts, muddy browns and deep reds can help you go from a blah look to one of rich color that can change any wall and usher in a new decorative look for the new year. You'll love the comfort and welcoming effect they have on your home.
Plants
Plants (live ones, please) have been pretty much on trend with a brief pause some years ago. They bring an added pop of actual color to a home along with liveliness and vitality to any setting, and they freshen your air and relieve them of any pollutants. Whether blooming plants, ficus trees, or low hanging baskets, you can have your own peaceful abode with a few simple plants or plant groupings.
Minimalism Persists
With more and more people at home these days, you'll want to create a sparse and uncluttered home office look that keeps you organized without a lot of work. Light wood and clean lines are a good start with enough room to store office materials and a place for your computer, desk lamp and pencil box. A long, lean, open wooden shelf can house containers for easy access. You want to keep it simple and minimalist when storing items.
Beach and Water Getaways
The coastal look persists but perhaps a bit toned down to a more contemporary feel with colors rather than a surplus of home decorations. You'll love the ocean palettes in aqua, teal, and murky blues. They offer feelings of comfort and calm. You can picture a tranquil home with accompanying furniture pieces in creamy colors and white along with natural wood tables, pillows and throws, light fixtures and natural floor coverings.
Limited Kitchen Hardware
Rather than a kitchen full of cabinets with pulls and other gadgets, minimalism strikes again with hidden cabinet latches that are push style, handles that can close with a touch or semi-hidden pull bar in place of traditional pulls. Countertop areas are free from clutter and define a clean and streamlined work area.
Traditionalism Still Lives
If you like classical art pieces, antique furniture accessories and a sense of history that goes along with them, you'll appreciate what the traditional look can bring to your home. Inspiration from the 18th and 19th century is your guide. You add soft pieces in furniture and highlight them with scroll work, damask fabrics and bold stripes. You can easily add traditional designs to your setting that create a classic look without a stodgy or cluttered appearance. Traditionalism is alive and well and you can incorporate it in your with a decorative style that works with furniture you already have.
Updated Arts and Crafts
Arts and crafts movements throughout the years have brought a sense of value to handmade decorative accessories and furniture. That same trend is happening going into 2021. See what artisans are doing with their different wares and appreciate their craftsmanship. If you want handmade items in place of manufactured products, you'll investigate the arts and crafts movement now and see how your home can be adorned with particular pieces.
Nothing compares to the handmade aspect of an item and how it can enhance your home. There's genuine beauty there with fabrics, furniture, flooring and accessories. Knowing that any of them are made by hand gives you comfort that all pieces are of lasting value.
Bring on Color
Color is uplifting and even if you have one piece in a sofa, chair or other selection you can enter 2021 with the thought that you found color at its best. Whatever you choose in a vibrant color, like red or navy, can highlight an entire room and bring charm and warmth to a space. Keep your lines clean and smooth. You want eyes to go to the color not the style or opulence of the piece.
Maximize Light
Light is one factor that can quickly alter your mood and bring a sense of calmness and centeredness to a home. Use as much natural light as possible. Rather than cover your windows or sliding doors with heavy patterned curtains, you can add semi-opaque lightweight cotton drapes to a room. You want light to filter in and give you the feeling of wholeness and life within the room.
There are many home interior design trends for 2021, and the ones given here are just a sampling of what will happen in the coming new year. You do want to think about minimalist designs, unique color statements, handmade items, natural paint colors, the cottage look and more. They are all important and you can use them in your home to create fresh looks in 2021. Look forward to these trends and incorporate any one of them in your home.