Hello! My name is Gerri Russell and I moved to Charlottesville to enjoy a whole new way of living. I came to visit and ended up calling Charlottesville home. Fast forward 20+ years later and what brought me to Charlottesville remains true to this day, a wonderful place to call home. I have spent countless days and hours hiking in the Blue Ridge Mountains, enjoying time on the downtown mall, and enjoying the mountains and rivers that we are surrounded by here in Charlottesville. Being so close to the University of Virginia has allowed me to become more involved in the community while appreciating local music, art, and theatrical productions at the University. Simply stated, Charlottesville and the surrounding counties are an amazing place to call home.
My passions in life are real estate, my farm and all my amazing animals, friends, and serving as the President of the Fluvanna County SPCA. I have an animal family at my farm. My animal family includes three horses, three goats, three dogs, and four cats. I love animals! We love living in Fluvanna County.
Charlottesville offers a special lifestyle. My focus as a Realtor is to help people make the most of this Charlottesville lifestyle. My passion, insight, and experience with the Charlottesville community positions me perfectly to play an integral part in helping my clients reach their real estate goals. Whether you are buying for the first time or selling a home you have owned, my goals remain the same, to make sure your investment is protected, and expert knowledge is provided to ensure you position yourselves well with what many call the largest financial transaction many will make in their lifetime.
As to the boring stuff, my real estate credentials. I received my diploma as a Graduate from the Realtor Institute in 2001. I am an Accredited Buyer and Senior Real Estate Representative and recipient of the prestigious Certified Residential Specialist designation.
If you put your trust in me to handle your real estate needs and wants, I won't let you down. I would welcome the opportunity to provide you with the professionalism and service you deserve. Call me today, 434-531-9581, to get started.
A few of my favorite things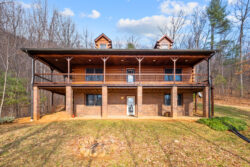 Amazing and private cabin that has been fully renovated from top to bottom, including every door hinge to the all-new engineered hardwood floors, to the all new luxury bathrooms, and the chef's kitchen!